Rohit Shah, Co-Founder and CEO of Hemp Horizons, is passionate about the extraordinary health benefits of Hemp and insists that present-day Indians should benefit from Hemp. Before founding Health Horizons, Rohit, an architectural engineer from Drexel University in the US, worked as a project manager for a real estate developer in the country. He built residential and commercial properties in Philadelphia as a project manager. Rohit is confident that in the next five years, there will be widespread use of hemp/cannabis in India. He sees the hemp horizons as a business enabling everyone to live sustainably.
With over five years of experience in this industry, Health Horizons has pioneered the manufacturing and retailing of hemp food and cannabis wellness in India. All their products are free of added sugars, emulsifiers, and preservatives.
We are fortunate to have interviewed him and talked about his inspiring journey. You can check out the blog to learn more about this influential personality.
Please tell us about your company 'Health Horizons'. What types of hemp products does your company deal in?
To understand this, we must first understand what Hemp is. Hemp, generally referred to as 'Bhang' in our culture, is also one of the sacred plants, as per Vedas. hemp seeds do not show any traces of drugs in them. Moreover, they are a nutritionally dense protein, omega rich food that people can consume. We specialise in 100% natural protein powders, cold-pressed oils, and plant protein bars. Aside from that, one can benefit from the medical benefits of cannabis leaves. We also produce tropical oils that are excellent for muscular relaxation, pain relief, and skin health.
How did you begin your business journey, and how do you think it affected your life?
We began this practice in 2016, but most people assumed we were dealing with illicit substances. I can't complain because hemp has a reputation in our country. Our goal was to establish a vertically integrated company. But in this case, we are solely responsible for harvesting, processing, packaging, manufacturing, and distribution. In The United States, our founders noticed such industries flourishing. Hemp is accepted as a supplement in other countries for treating various ailments. Many manufacturers in the pet industry also make products using hemp seeds. While in the US, we discovered the bright side of this wonder seed. Later in 2016, we travelled back to India with the goal of educating people about the same.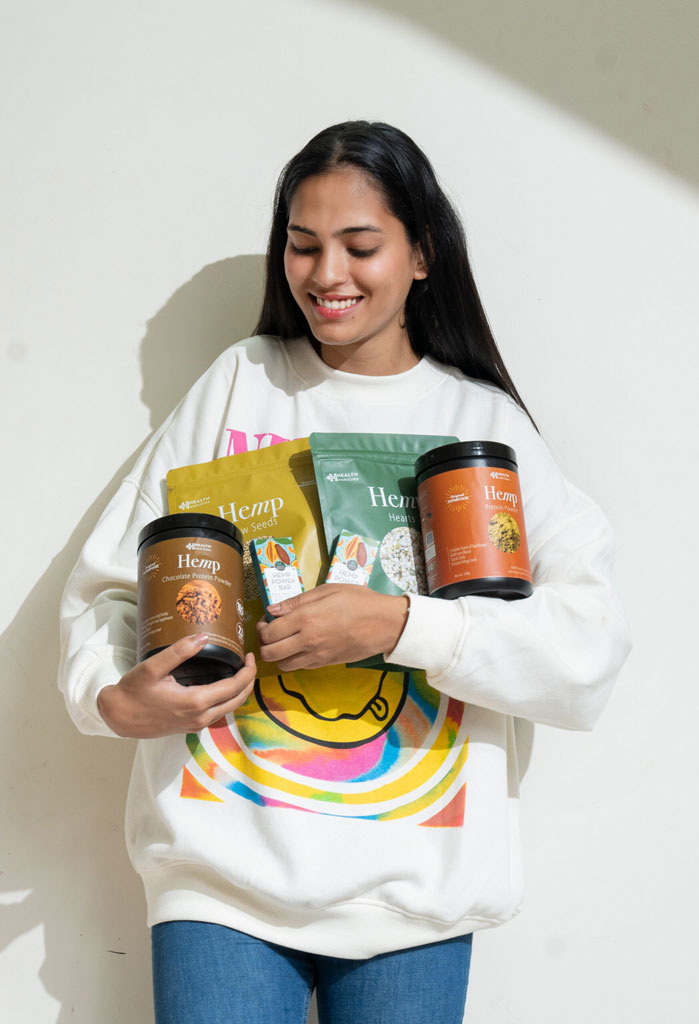 What obstacles did you face during your business journey?
Marketing these products is the most challenging task as the government poses strict promotional policies. Businesses have become more innovative as a result of the necessity to educate audiences and markets. We collaborated on several projects so that people could see and taste our products. Many social media platforms do not provide cannabis goods for sale because of a lack of understanding. We are yet to establish ourselves as a significant organisation in terms of innovation, and it is believed that legislative reforms or government backing are necessary to promote organisations of this kind. As a result, we have surmounted these obstacles and will do so again.
What are the advantages of hemp products, and what factors should be taken into account when using them?
Hemp seeds are considered a superfood for the body. Many nutritionists and dieticians now favour hemp products for obvious reasons. Like:
These items contain omega-three and omega-six fatty acids, which aid in various internal aspects of health care, for instance, to keep the body healthy, promote cell growth, regulate the immune system, and eliminate skin problems. Besides, it is a natural alternative to fish oil.
Hemp seed protein is absorbed more quickly than meat, whole eggs, cheese, cow's milk, human milk, or any other high-protein diet. It is known as "nature's superfood" because it provides all the amino acids that help build muscle, including branched-chain amino acids (BCAAs).
What advice do you give young entrepreneurs who have just started their businesses?
Starting from anywhere is always a great place to start! If you have ideas, turn them into action; this will open up many opportunities for you. You must keep moving forward regardless of the consequences. Never miss your chance. Constantly evaluate them and keep changing them to your advantage.
If you were not an entrepreneur, what would you be?
I used to work as a real estate developer before I started in this field. I would be creating something else if I weren't into hemp products. I did my schooling in architectural engineering. Sustainability has always been my ultimate objective, so I looked for sustainable and carbon-neutral architecture when I worked in real estate. When I first started working in the hemp industry, we were strongly in its favour because of its environmental impact. We found that a single acre of its growth can remove 10-15 tonnes of carbon from the atmosphere. We, therefore, feel that sustainability is always at the core of everything.
How do you plan your day?
Every day is a new chance to achieve something. If you start each day with this thought, you will never fail. I start my day with spiritual practices; I meditate, exercise, and then plan my day. I suggest immersing yourself only partially in the workload. Taking time for your mental health and well-being is equally important. Always maintain a balance between your professional and personal life. Your personal life also deserves your undivided attention.
What was the sudden change from a real estate developer to becoming an entrepreneur?
It has a fascinating background! I have been studying in the USA since 2011 and work as a real estate developer. We had always planned to return to our country and support our families there. So, when we finally decided to return to India, the question was, 'What next?' It was then that we decided to introduce the hemp idea here.
What are your plans that we can expect to see in the coming future?
There are many factors to consider. In India, the next decade would be marked by the hemp revolution. In these five years, we have expanded to 200 companies across India. And the coming ten years will be one to remember. Regulation changes are already being implemented, and the government is also promoting the use of hemp nutrition. Farming will also be an essential step for us in the next twelve months. We consider India as one of the largest retailers and exporters of hemp and cannabis products. This is our vision for the years to come.
Tell us about your best-selling product in the market so far.
We recently launched Plant Protein Bite, which are smaller energy bars. It is a popular product in the market right now. This energy snack is portable, gluten-free, and sugar-free. Hemp Protein Powder (Chocolate flavour) is also a top seller. Hemp seed oil is also included in our list of top sellers.